I HELP CHRISTIAN COUPLES FIND THE WEALTH IN THEIR MARRIAGE AND OVERCOME FINANCIAL GRIDLOCK SO THEY CAN LIVE THRIVING, HAPPY LIVES DEDICATED TO THEIR TRUE PURPOSE.
TAYLOR PRESENTS ON A VARIETY OF SUBJECTS, AND EACH CAN BE ADAPTED TO SUIT YOUR EVENT AND AUDIENCE NEEDS. BELOW YOU'LL FIND TAYLOR'S SPECIALTY KEYNOTES.
UTILIZING THE 5 MONEY PERSONALITIES TO ENHANCE YOUR MARRIAGE
If you're like most couples, you fight about money. In fact, money is one of the leading causes of divorce. but it doesn't have to be this way. Learning about your money personality can help you understand your spending and saving habits, as well as your partner's. This knowledge can help you communicate better about money, set financial goals, and achieve financial freedom in your marriage.
HOW TO GROW AND DEVELOP TEAMS FOR MAXIMUM SUCCESS
Building a successful team is like a finance portfolio – you need to diversify, have an eye for the big picture, and plan for the long term. By taking the time to cultivate a mix of skill sets and personalities to reach your ultimate goal, you can create a powerhouse that will achieve great things for years to come. Invest in your team today, and watch the dividends roll in tomorrow.
LEVERAGING RESOURCES AROUND YOU TO ACHIEVE FINANCIAL INDEPENDENCE
It's true what they say: no man is an island. When it comes to achieving financial independence, the same is true. There are often many resources right at your fingertips that can be leveraged to help you reach financial freedom faster. Learning which avenues to explore when attempting to achieve financial independence can be life-changing.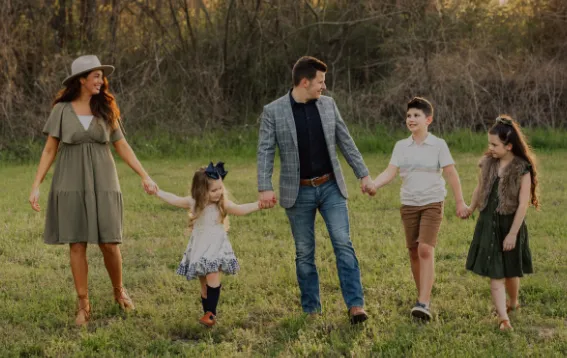 STRUCTURING YOUR BUSINESS SO YOU DON'T LOSE YOUR FAMILY
Making family a priority isn't always easy. Especially if you are running a business, it can be difficult to make family life take precedence over the daily hustle. You will learn how to break the hustle culture and structure your business, so family life doesn't take a backseat!
We can firmly say that if you want a crowd to be entertained, immersed, and a part of your event, Taylor is the person for you. His energy is always turned up to 100%, he will get your crowd involved, tell jokes, and make sure your event is remembered!
Between his many occupations, Taylor has plenty of practice
with confident public speaking. Whether he was giving a sales
pitch, talking to his company of over 100 employees, or giving
a keynote to a full crowd, Taylor has plenty of experience.
Taylor has experience in many walks of life: Healthcare, Finances, Marriage, Ministry, Families, Entrepreneurship, etc. You name it and he can give you insight. This diverse background helps him be able to reach many different audiences.
Taylor connects with his crowd by meeting them where they are.
Any time he speaks he makes it easy to follow, fun, energetic,
and memorable.